Safety Pin Brooch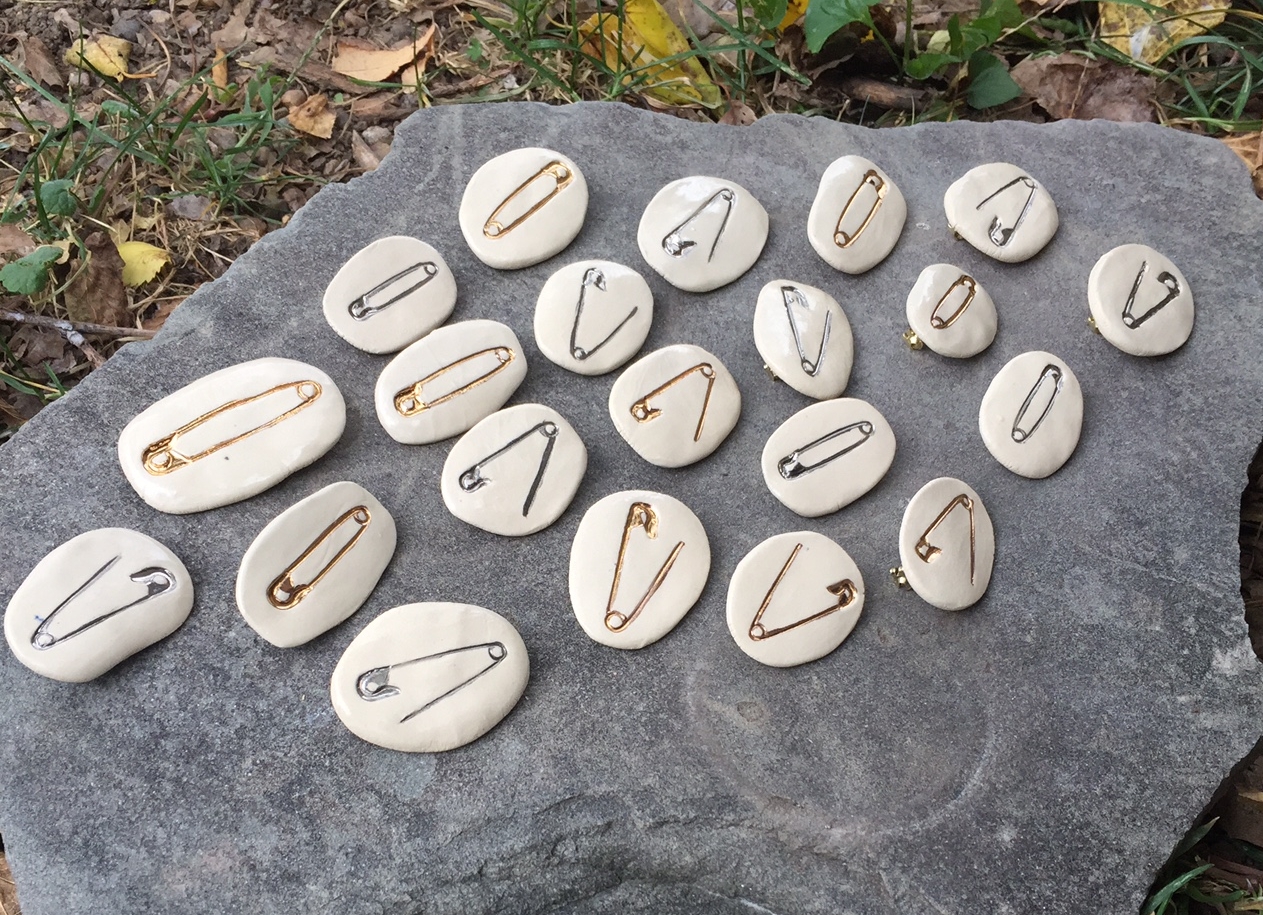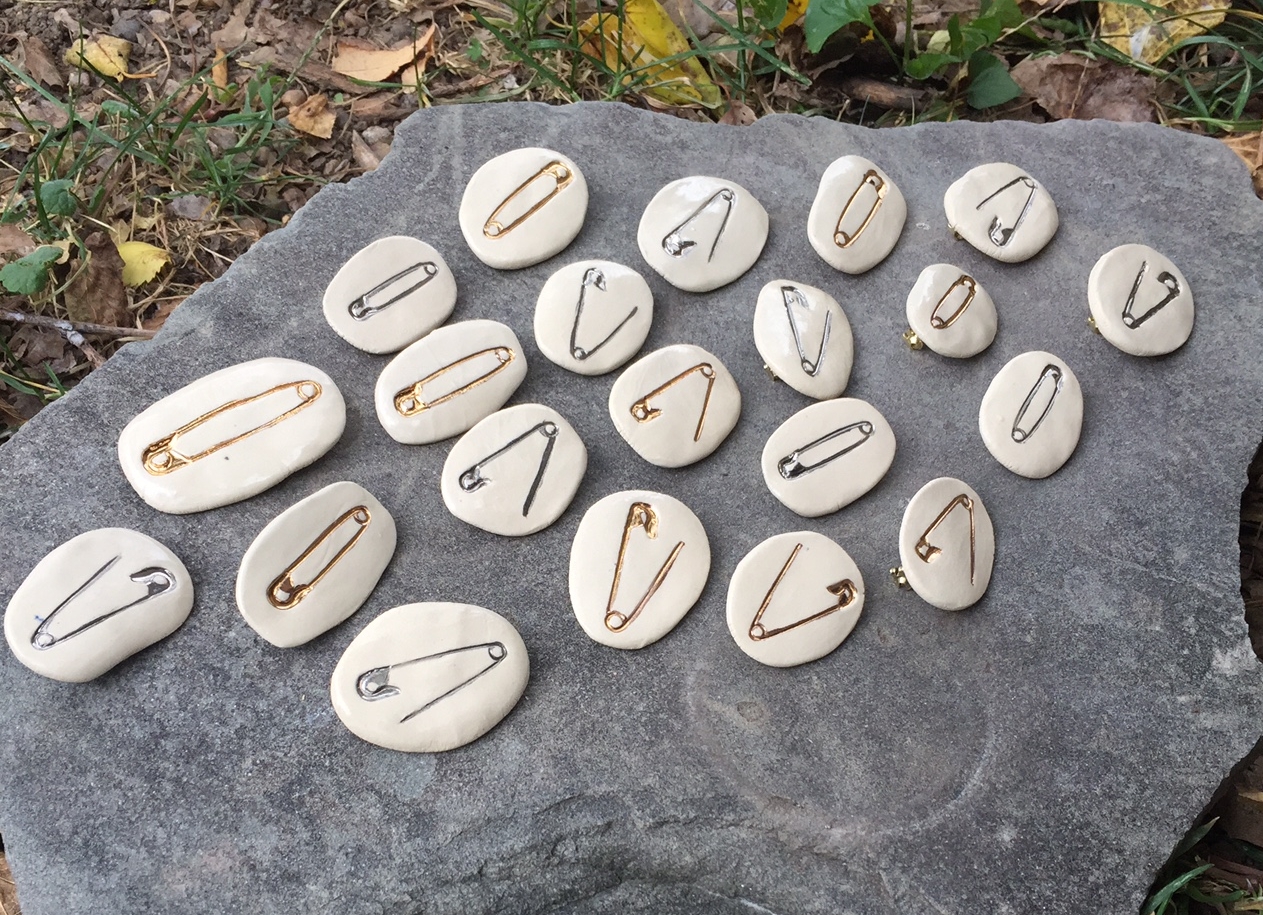 Safety Pin Brooch
The Safety Pin Movement is a sign of solidarity. By wearing a safety pin you will signify that you are a safe person and willing to stand up for the vulnerable and marginalized populations (minorities, immigrants, women, members of the L.G.B.T. community, ect). The safety pin movement is not a political movement. It does not signify that you are Democratic or Republican. It is merely a simple way to signify to a vulnerable member of our separated society that you will not harm, harass, belittle, or marginalize them. It also signifies that in a dangerous situation, you are willing to stand up to the bullies in our society that do harm, harass, belittle and marginalize our fellow humans.
$10 of your safety pin purchase will be donated to the organization of your choice. These organizations fight for the rights of our most vulnerable populations. Each Donation will help them continue to fight for the liberty that all Americans deserve. Please see below to learn more about the organizations you can donate to.
*** Please note: Each Piece is handmade and no two are exactly alike.
Each piece is handmade and no two are exactly alike.
The Anti-Defamation League was founded in 1913 to "stop the defamation of the Jewish people and to secure justice and fair treatment to all." Today, it fights against anti-semitism and bigotry as one of the largest civil rights organizations in the country.
Black Lives Matter: Black Lives Matter is a unique contribution that goes beyond extrajudicial killings of Black people by police and vigilantes.
It affirms the lives of Black queer and trans folks, disabled folks, Black-undocumented folks, folks with records, women and all Black lives along the gender spectrum. It centers those that have been marginalized within Black liberation movements. It is a tactic to (re)build the Black liberation movement.
Campaign Zero: advocates for policy solutions to end police violence in America.
The Center for Reproductive Rights is the world's foremost legal advocate for securing women's access to quality reproductive health care.
The Council on American-Islamic Relations (CAIR) is the country's largest Muslim civil liberties organization.
The Disability Rights Education and Defense Fund (DREDF) is a national civil rights law and policy center devoted to advancing the rights of people with disabilities through advocacy, training, education, and public policy.
EarthJustice is the largest nonprofit environmental law organization in the country, working to protect wildlife, for healthy communities, and for cleaner energy options. The organization represents its clients free of charge.
Lambda Legal is a national legal organization dedicated to fighting for the civil rights of the LGBT population and people with HIV through litigation, education, and policy work.
The National Association for the Advancement of Colored People (NAACP) works to promote the civil rights of people of color and to eliminate race-based discrimination.
The National Coalition Against Domestic Violence (NCADV) advocates for victims and attempts to change policy surrounding domestic violence.
The National Immigration Forum is another leading immigrant advocacy group that offers various programs to integrate immigrants into the workforce and obtain citizenship.
National Organization for Women (NOW) is an activist organization, foundation and PAC that advocates for equal rights for women.
The Native American Rights Fund provides legal assistance to Native American tribes, organizations, and individuals nationwide who may otherwise go without adequate representation.
Planned Parenthood is the country's leading sexual and reproductive healthcare provider.
Rape, Abuse & Incest National Network (RAINN) is the country's largest anti-sexual violence organization, which operates the National Sexual Assault Hotline (800-656-HOPE; online.rainn.org; rainn.org/es) and programs to help victims of sexual violence.
Running Start is another organization dedicated to educating young women and girls about the importance of politics, through the Young Women's Political Leadership Program and various other fellowships and internships.
The Southern Poverty Law Center fights hate groups and bigotry using education, litigation, and advocacy.
The Sylvia Rivera Law Project provides legal services specifically to low-income people and people of color who are transgender, intersex, or gender non-conforming.
The Young Center for Immigrant Children's Rights works to protect the best interests of children who come to the U.S. on their own.